We are an Owner-Operated Company Providing Custom Quality Service
All projects are completed on-site at our studio location in Spring Lake Park, Minnesota.
We love what we do and always strive to provide the best quality and service.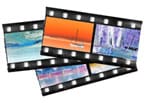 High Resolution Film Scanning
We scan all formats of negatives at high resolution for archival quality digital images which allows increased flexibility for enlarging, editing, and printing. You may provide negatives in original envelopes or archival sheets. Scanning includes image rotation and precise cropping for quality results.
White Glove Service
We gently handle your negatives and wear film handling gloves so we don't leave any fingerprints behind and wipe film clean of dust and debris before scanning. We also pay close attention to scan with the emulsion the right way for correct orientation.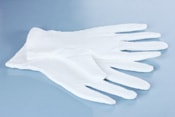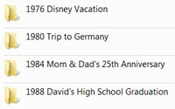 Custom Digital Organization
We scan and organize your negatives digitally in the order and groupings provided based on subject or year. If your negatives are not organized, you may find it easier to organize them digitally after scanning.  The image file names are uniquely named to match the subject.
Professional Restoration
We offer skilled digital restoration for film that is worn and in damaged condition, including: color restoration, exposure correction, scratches, fungal growth, etc. All corrections are performed manually, no auto processes.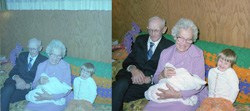 Pricing
500+ Images = 10% Discount
All scanning projects include high resolution and manual editing for best quality results.
JPEG image format is standard (TIFF & JPEG optional +$.10 per image)

Negative Scanning
Pricing
35mm Format – 4000dpi
$0.75 / Frame*
110, 126, and 127 Formats – 4000dpi
$1.50 / Frame*
120 Medium Format (6cm width) – 3000dpi
$2.50 / Frame*
Large Format (4″ x 5″ or Larger) – 1500dpi
$5.00 / Frame*
Kodak Disc Film – 4000dpi
$15.00 / Disc*
* Single Cut or Select Individual Frames
+$0.25 / Image
Digital Restoration of Damaged Negatives


Color Restoration, Scratches, Fungus, Wrinkles, Tears

Varies by Condition


Based on a $60 Hourly Rate

Output Options
Transfer Images to USB Flash Drive
$10 (8 GB) $15 (16 GB)
Custom Titled Data CD or DVD
$5.00 / Disc
Transfer Image to Client Provided Hard Drive
No Charge
Print Options From Digital
Matte or Glossy Finish
4″ x 6″ Print Size
$0.75 each
5″ x 7″ Print Size
$2.50 each
8″ x 10″ Print Size
$6.00 each
11″ x 14″ Print Size
$15.00 each
16″ x 20″ Print Size
$25.00 each
Custom Print Sizes
Available by Request