How to Prepare Negatives for Scanning
Select Negative Frame Scanning
You can save time and money by choosing to scan select frames of negatives. These are a couple of easy ways to prepare negatives for scanning and our technicians will handle the rest!
Ways to prepare your selected frame scanning project
This method, although safe, involves potentially causing harm to unwanted frames. Method 2 offers a safer alternative.
Use a marking pencil to write an X over unwanted frames, directly on the negative strip. This will indicate to the Archivist to leave those frames out.

This makes for the speediest select scan and provides the most clarity.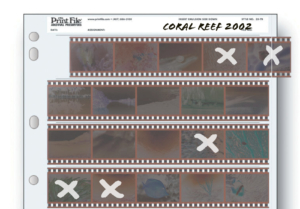 Method 2
Another option is to write on the storage sheet with a permanent marker (do not write directly on the negative with a permanent marker), making boxes around the frames you'd like to scan.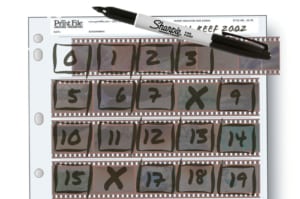 Write the corresponding negative frame number inside the box to avoid any confusion if the strips shift in the sleeves.

Negatives that aren't handled correctly can be subject to fingerprints, mold, dirt or scratches that may affect the images. Memories Renewed handles all projects with gloves to protect your precious materials.
The best way to store your negatives
Store negatives in archival storage sheets to keep them clean and in order.
Do you have a lot of negatives but don't want to sort them?
Let Memories Renewed do the work for you!
Choose to scan all frames or just the frames that include people.
Memories Renewed will not charge you for "dud" scans.
Memories Renewed takes great pride and care in scanning negative projects. We start with cleaning the strips by hand to remove dust and debris and then use professional scanning equipment to digitize at high resolution, followed by cropping and editing to deliver the cleanest and best image possible.
Memories Renewed technicians will scan your images in numerical order according to frame number using discretion to not scan heavily blurred or indistinguishable content – saving you money.