Protect Your Photos and Films from Fires and Flooding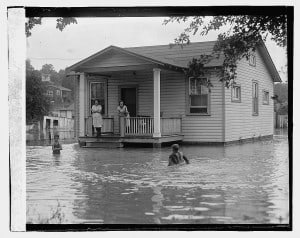 The Importance of Protecting Your Photos and Films from Fires and Flooding
It's very important to digitize your photos and films now. Memories Renewed can help protect your photos and films from fires and flooding. Each year seems to be a record setting year with extreme temperatures. Extra moisture has to go somewhere when it evaporates or falls as snow or rain, hopefully it's not your basement or attic! Not to mention stronger and longer hurricane seasons. On the flipside, the lack of moisture causes fires to crop up unexpectedly.
Most people store away their old boxes of photos, slides, or films in a basement closet or their attic and when they are out of sight, they are out of mind, until it's too late. Each year you see the news stories of someone's treasured memories ruined forever because of moisture or fire. Don't let that happen to you!
Digitize and Preserve Your Photos and Films
Before disaster happens, digitize your media! Not only does digitizing your old film and photos protect them from the elements, you'll be able to enjoy them again and share with friends and family.  Memories Renewed can help you digitize all your physical media types and convert them to the most commonly used media codecs to watch across all your devices.
Plastic is your Friend
Once they are digital, make sure you store them away properly for safe keeping. If you have loose photos, group them up and store them in zip storage bags to protect them from moisture. If you have old photo albums or photos in frames, buy some large plastic storage bins with a good tight seal to protect them from humidity. Store them all in a cool dry place. This is especially important for old negatives and film where mold can ruin your originals. Storing photos in plastic bins can also preserve them in case of fire in some cases. The plastic bins can melt and encase the photos and protect them temporarily from the water being used to put out the fire.
Salvaging Wet Photos
If it's already too late and your cherished photos have gotten wet, act fast. The longer you wait the more damage, such as mold can occur.  If the photos are dried and stuck together, you can soak them in water to make the paper fibers pliable again. After soaking them, gently separate the photos from one another and be very careful not to rub the photos, then lay them out individually to dry on paper towels. Do not use newspaper or brown paper bags as the ink can transfer to the photos and cause additional damage. Periodically change the paper towels until the photos are completely dry. Next, scan your photos and preserve them digitally.
Restore Damaged Photos
Do you have some photos that have already suffered some water damage or mold? Memories Renewed can help by scanning and restoring the photos digitally. We've worked with many clients to scan and digitally restore damaged photos to bring them back to life.