The functionality of having your media digitally preserved is endless.  Photos, films and memorabilia can be enhanced and preserved much longer than their paper/film counterpart. Often the question will occur, 'how do I use it'?  For those of you who are accustomed to pulling out picture albums, scrapbooks or digging through a box of family films to connect with the past, how do you enjoy and share your digital memories? Here are some fun ways to find joy in your digital archived media.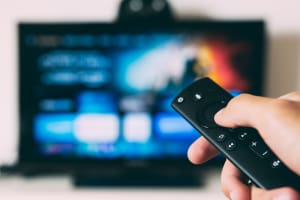 When you imagine a slideshow, you may think of expensive projectors and screens, or perhaps the old slide projector tucked away in an attic somewhere, but having a slide show is quite possible without any of the equipment mentioned!
What You Need
TV
USB drive loaded with your digital memories
Streaming device such as Roku Box or Apple TV box
Or a TV with a USB port
Step One:
Make sure the digitized media you would like to share is loaded on the USB drive (like a USB drive we offer when digitizing with Memories Renewed!)
Step Two:
Insert drive into port on a streaming device or directly into TV (if tv has USB port).
Step Three:
Press the input on your television and cycle through until you see your files.
Step Four:
To Navigate photos, use your streaming device remote, or if connecting directly to the tv through a USB port, your television remote.
Step Five:
Enjoy!
Digitizing can help you connect with family when you can't be together. If you and your family members are looking for a special way to connect, try creating a private event on Facebook to reminisce using your digitized media!
What You Need
Computer
Facebook Account
Digitized Media
Step One:
Log on to Facebook and create a private event.
Step Two:
Meet up on Facebook with family/friends at the designated event time.
Step Three:
Upload your curated pictures every few minutes and interact with loved ones through comments and likes.
Note: You may download the pictures shared during the event.  When the event is over you will no longer be able to access the information shared during the event unless previously downloaded.
Step Four:
Enjoy!
Digital photo frames have come a long way since their inception in the 1990's. No longer do you have to insert a SD card from your digital camera and scroll through clunky menus.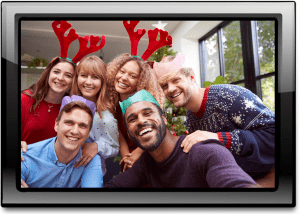 Many models today have the capability to send pictures directly to the frame from your phone or camera. This provides individuals who own a frame and especially those who may not be computer savvy a way to experience in sharing memories in an easy and enjoyable format.
What You Need
With ever-changing technology and the amount of digital media produced in the world daily, the demand for new ways to share and experience our digital memories will only increase.  Memories Renewed looks forward to being at the forefront of how our customers can experience and enjoy their digital media.
Stay tuned…